Government Process Service
Serving Government Agencies: When, How, Why, & Where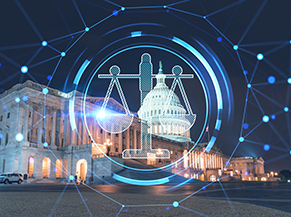 We serve government agencies nationwide!
Government agencies, law firms, and individuals use process servers to file and deliver essential court documents and other legal documents to the targets they need to reach.
Process service is an essential component of our judicial system. In order for there to be "due process," all parties must be given appropriate notice of any legal action against them. This information must be officially documented and delivered in a timely manner. However, plaintiffs are not allowed to deliver papers themselves. They must use a process server. Because they are not a party to the legal conflicts at hand, process servers act neutrally throughout the legal process and help you move the case forward in a safe and productive manner. If the target is hard to find, we may employ multiple process servers or offer skip tracing to locate them
Trust Same Day Process to Handle Sensitive Court Documents
Do you need court documents served at a military base, jail, or police station? Same Day Process can obtain authorization for you and deliver your documents safely. In addition to serving papers, we also provide:
When you're dealing with critical court papers, ensure they make it into the right hands with the help of a process serving agency like Same Day Process. We provide rush same-day service and will do our best to address any last-minute requests you may have.
What Is Included in the Process Serving Fee?
At Same Day Process, there are no hidden fees or surprises. Base process serving fees include:
Our convenient client portal ensures your court documents, affidavits, and skip trace reports are always at your fingertips, enabling you to check the status of your file at any time.
Note: Same Day Process Service, Inc. charges per address. The client is responsible for providing an address at which we will first attempt to serve papers. Additional fees — such as skip-traces, postal tracers, sting operations, and stake-outs — are not included in the original assessment and quote.
We serve government agencies nationwide!
Below are some examples of agencies we serve legal documents to daily. Keep in mind, we serve many more agencies than what you see below! If you want to serve a government agency anywhere nationwide Click Here.
For A Professional Process Server Near You, Call Same Day Process Service
---
Browse Our Latest Blog Posts: