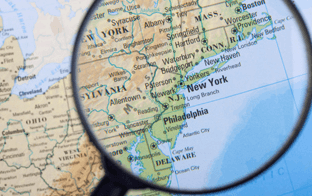 Originally posted on 12/21/2015
The process serving industry is constantly evolving. To meet the demands of this industry, a process server must employ the latest technologies and innovative methods. Some people are bound and determined to outrun the law, so a process server must use real-time technologies to keep track of their subject.
Here are a few of the most cutting-edge technologies that are used when it comes to serving court documents to a defendant.
Process Serving Tool #1: Mobile Applications
Mobile apps are being used, with increasing frequency, to provide geostamping service of process. A subpoena server uses a smartphone to access a custom mobile app, open the job they have been assigned, and to enter attempt information. Attempt info that is recorded includes photos of the location, the GPS latitude and longitude, and the date and time. If the serve is successful, a complete affidavit is entered and saved through the app.
Process Serving Tool #2: Websites
Most professional process serving companies maintain secure, confidential websites through which clients can access their files. With this option, clients do not have to wait for an office to open to check on the status of their case. These websites are also used to create affidavits of diligence or to send email notices once the papers have been served. Clients can also download invoices and service affidavits.
Process Serving Tool #3: Data Transfer & Electronic Imaging
A process server will save each document that is related to a client's case. These documents are scanned into the server's website, where a client can access and view them at any time. Electronic data transfers provide seamless transitioning between the subpoena server and the client who needs to access the file. It's easy for a client to sync their software with the process server's software.
Partner with Same Day Process Service for Professional Results
If the process of serving court documents is becoming difficult, it's time to call in the professionals. At Same Day Process Service, we employ the aforementioned technologies and methods, in addition to many more, to track down the person in question. No matter how elusive your target is, we're prepared to get the job done right!