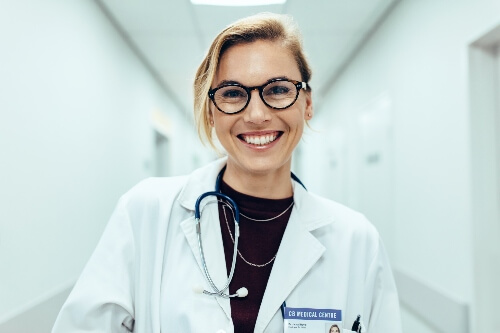 The doctor we were trying to serve had been an enigma for over a month. Our servers made several unsuccessful attempts to serve him at his office in White Plains, MD. His door was always locked and no sound heard from within. The receptionist in the doctor's office across the hall only knew that he maintained an office there, but did not know his schedule.
We took over the job and attempted service at his residence, but the home was visibly vacant and none of the neighbors were home. We returned the next day to interview the neighbors and, still, nobody was home; but that evening we returned and found two of his neighbors home. Neither knew where he moved to, but one of them said he had been evicted for not paying his mortgage.
We proceeded to the Bowie Post Office and tried to walk a Postal Tracer(USPS - document requesting forwarding information) through to the Postmaster-General, but the manager said she would not give me the information but would mail the subject's forwarding address to me. Ten days later we received the USPS Postal Tracer and found that his forwarding address was a PO Box at the Bowie Post Office.
We attempted service at his three other offices in Laurel, MD, Washington DC, and Waldorf MD. All those offices were vacated by the subject. When we attempted to serve the documents at another office in Glendale, MD, the door was locked. The receptionist in the office across the hall said the doctor did maintain an office there, but she only saw him on Fridays.
Our concern was that the doctor was probably in one of his two offices and just not answering the door, so we skip traced his vehicle make model and tag number to stakeout it out. We ran him through Maryland Motor Vehicles Administration and found no vehicles registered to him.
We returned to the original address in White Plains, MD, and again found his door locked and heard no sound from within. All the medical offices on his floor were closed. As we were about to leave, we heard voices from the dentist's office at the end of the hall, so we went there and knocked. No one responded, so we knocked a little harder and longer, eventually, a woman answered the door. We were carrying a box and clipboard pretending to have a delivery and asked if the doctor still occupied the suite at the other end of the hall. She said, yes, and looked out her window and said his silver Mercedes SUV was parked behind the building right now.
We went to the back of the building and noted his license plate and parked my car in a lot 100 yards away on the side of the building at 5:30 pm, and waited. Two hours later it started getting dark, so Tony Snesko, CEO positioned hi car at the far end of the parking lot in front of the building but in a place where he could see his front windows and his vehicle parked at the back corner of the building.
All the lights were on in his office and for a while, Tony worried that he might be living in his office and would not be leaving. At 8:30 pm, the subject started walking around in the office. He turned off the front and back office lights but left the center office lights on, and, at this point, Tony was almost sure he was spending the night there.
Much to his surprise, at 8:50 pm, the headlights to his vehicle turned on. Tony sped across the lot with his lights turned off and managed to get around behind him and block him in as he started backing out. He again started to back out, probably hoping Tony would move. But instead, Tony immediately exited my vehicle and approached his door. As he opened it, we informed him he was being served with legal documents. The doctor took the documents in hand.
As Tony drove away, he suddenly realized that we may have to serve him again on related documents regarding our client's case and he would be much more difficult to serve next time around, and it would be much easier if we knew where he lived. So, he decided to follow the subject home after service was perfected.
The doctor drove to a gas station and filled his tank and then headed north on Rt 301. We followed him for nearly an hour, trying to stay far enough away to not be noticed but close enough to make it through the 20 traffic lights before arriving in Bowie, where he finally pulled into a residence. Tony drove past him, parked a block away, and walked back to his house to verify that he wasn't just pulling into a stranger's driveway to fool me. He sat in his car talking on the phone for 5 minutes, then exited his vehicle, entered the row house, and turned on the lights, confirming that this was his residence.
We did eventually have to serve him again, but the next time was at his residential address instead.