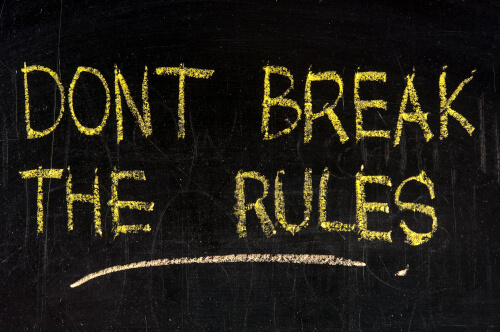 Process servers have a tough job. They are responsible for delivering court documents to people. Many people being served have misconceptions that challenge the delivery process. Knowing the rules based on local and state laws is important for process servers to accurately meet the needs of the courts, their clients, and the individual(s) being served.
Process servers work with respect for the people they serve and with professional integrity. That being said, servers need to go to extreme lengths to serve their documents, which sometimes puts them in danger of breaking the law. Keep reading to learn more about what behaviors to avoid in order not to be sued as a process server.
1. Don't Guess the Laws and Rules
Each state carries its own set of rules, laws, and general practices. There are rules relating to how a service can be made, barred days, who can accept service, and more.
If you have to cross state lines to attempt a service, make sure to check the rules in the new state. There may be important differences.
2. Stay Away from the Mailbox
It is no crime to notice an address posted to the side of a mailbox. However, pretty much anything else involving the mailbox is off limits. Tampering with someone's mail is a federal crime. Don't touch their box or mail, even if it is in plain view. For more information on postal code law, click here to read 18 U.S. Code § 1708.
3. Be Authentic - No Acting Allowed, Especially Law Enforcement
Delivering court documents is serious business. Sometimes you have to take extreme measures to reach the individual you need to serve. Though we encourage creativity, make sure not to deceive someone as to who you are. This act may be effective, but it may also be against the law. Remember, you are not a law enforcement agent. It is definitely illegal to impersonate a police officer or government official.
4. Stay Out of Places You Haven't Been Invited to Enter
This one may sound like a no-brainer, but wait to be invited to enter someone's home. Trespassing, or entering someone's property without permission, is illegal. Even if you know someone is home, do not force your way inside their home. This behavior will only make the serving process more difficult.
Choose a Profession Process Serving Company
Serving processes is no easy job. The flow of work can go more smoothly when you partner with a professional company that protects its servers by teaching them how to respectfully do their job. Same Day Process Service has a strong record of faithfully serving our client's needs by employing the most professional servers.
Give the team at Same Day Process Service a call today at (844) 737-8331 to take the next step toward becoming a process server or having your process served.