Blog originally published on December 30, 2020. Updated on September 2, 2022.
Anyone can serve 95% of Process, but only a professional process server can serve the other 5%
Serving court process is a job that keeps you on your toes, forces you to improvise and think in the moment, and may also require planning ahead to be successful. Many people can hand off court documents to agreeable individuals, but to succeed in this business, you must be able to serve papers to the hard to reach people by being creative in your approach.
You would be amazed at how many people we serve legal documents to complement our process servers on our unique pretexts used daily to get documents served. They will openly state that without the use of "pretext," they would never have accepted the documents or verified their identity.
As a vital part of the legal system, we are known for acting professionally and respectfully with those we meet, whether it is the security guard at the front entrance, a neighbor, or the person receiving the court papers.
A History of Process Servers and Disguises.
Many people believe process serving and disguises go hand-in-hand, and the media plays a huge role in portraying various depictions of process servers in movies such as Pineapple Express and Serving Sara. Professional process servers can have many different disguises, including: a pizza delivery person, flower delivery drivers, construction workers, and more!
Short Story of our personal experience acting as construction workers
We were hired to serve a political figure who had already evaded service from four other companies in the area. Each and every server who came before us failed miserably to serve him, so for this situation we recommended three different process servers stake out the subject's known location to get the job done. Two servers covered alley entrances to the first property and one sat in front of the site. We staked out the property for approximately one hour before an informant gave us the scoop on the subject's current location. The new information resulted in us having to quickly relocate. We had to rely on our adaptability to immediately run to the new location before the subject had the opportunity to escape.
We found that the subject had an advanced surveillance system including personal security, cameras, and a driver. Private Investigators and Process Servers in the DC Metro area had tried to serve the subject multiple times, but he always found a way around it, thus he was deemed a professional evader. He and his security developed a keen eye for spotting process servers while they were attempting to stake out his residence and the subject would not leave if he was suspicious a process server was present. All of the factors involved with the case proved to be a difficult situation that had to be handled with the utmost care and due diligence to ensure that security did not get spooked so that the subject would come out of hiding.
The three of us separated as the plan transformed, two positioned themselves in the new location's back alley dressed as construction workers (the disguises were quite believable as you can see in the images above), and another server proceeded to stake out the front from a distance. We knocked on the subject's front door and was immediately confronted by his personal security. The man who answered was intimidating to say the least and would have been described as a large, burly man wearing a full suit. I informed him that I was a part of a company hired to remove the overgrown trees from the alley looming over electrical lines and needed verification from the homeowner that we were authorized to block the alleyway. Security immediately asked for verification of the company we worked for. We had anticipated this response and already had the pretext ready to provide. He then asked for paperwork proving the authorization for the tree removal. We informed him that our foreman had the paperwork, but wasn't coming to the location until we gained permission to begin the work. He believed our backstory but did not get the homeowner, stating he was currently busy and suggested we return later.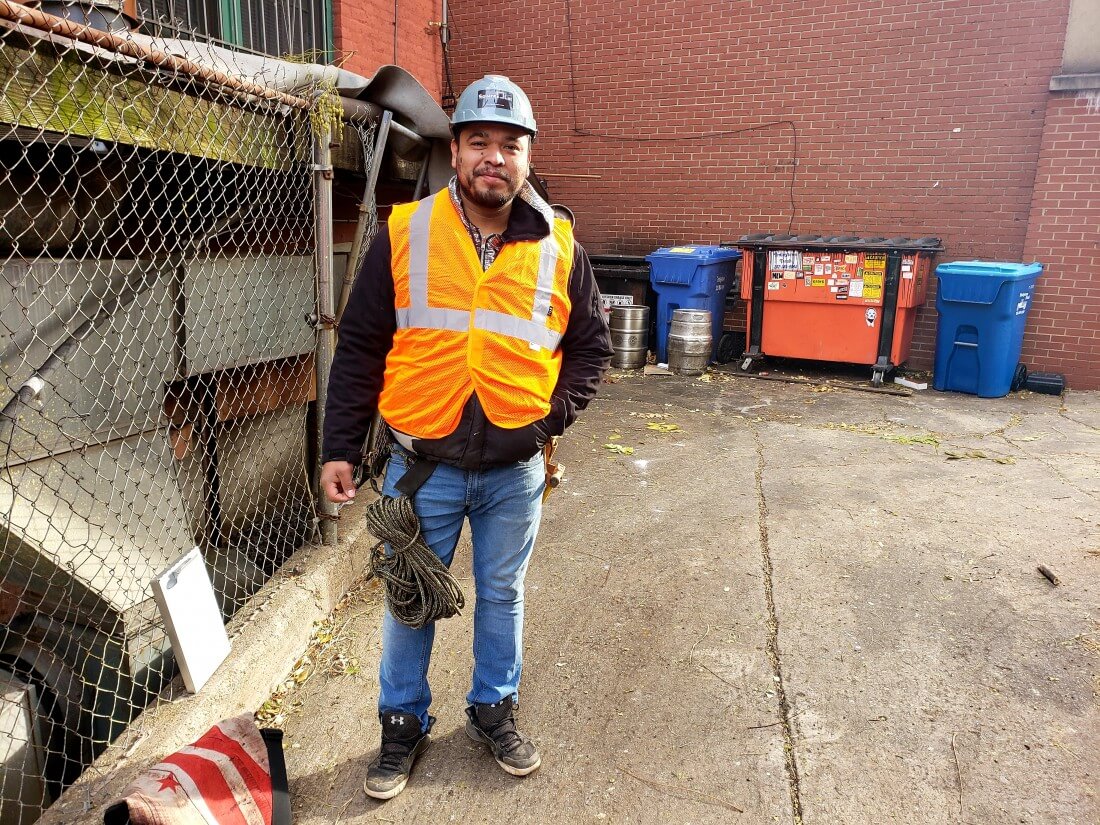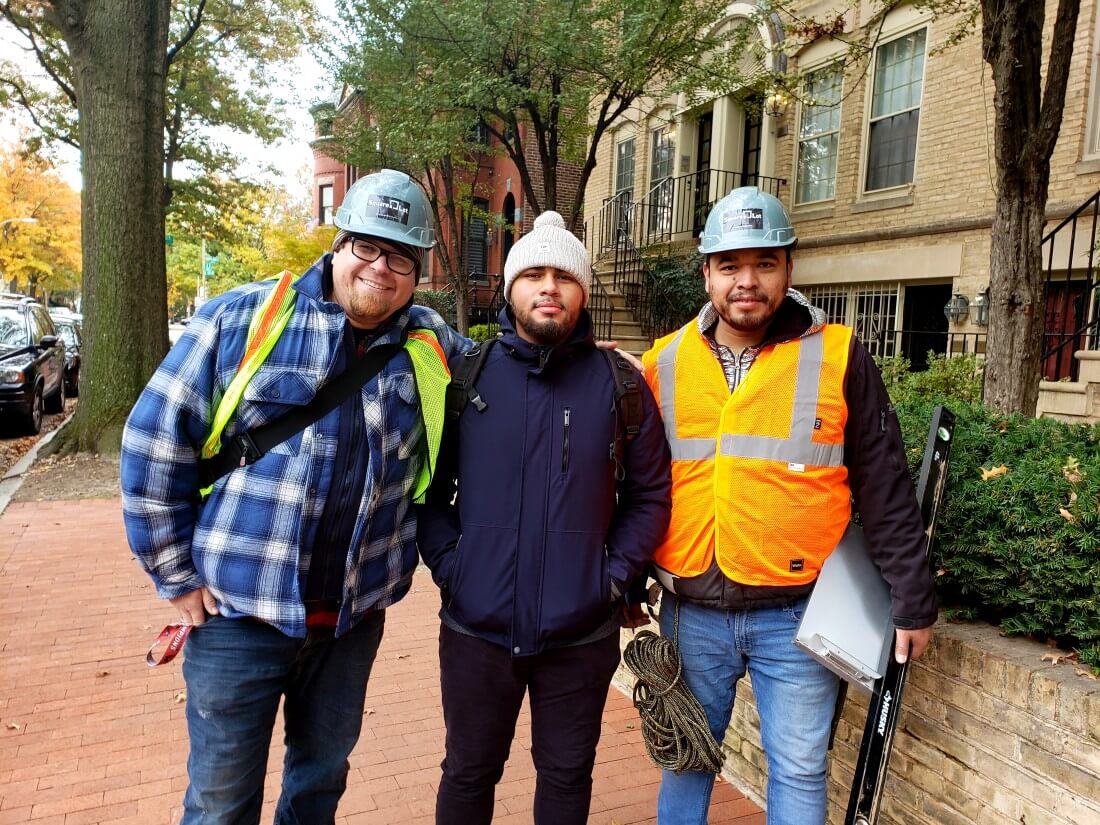 As we exited, we observed that he opened all of the blinds in the house and watched what we would do next. Knowing that we were being watched, we devised a plan to knock on every neighbor's door loudly so that security at the location could hear and told the neighbors that we were removing trees from the back and we would be blocking the back alley and requested to speak with the homeowners for verification that we were in fact permitted to block the alley while we worked.
After talking to the neighbors within sight of the target property, we then proceeded back to the alley and took pictures of trees and electrical lines under them. While doing so, we observed and took photos of the video cameras at the back of the property and the vehicles without arousing suspicion. To ensure the believability of our cover, we made it seem like we were looking at the environment as construction workers and carried props such as notepads for taking notes as we spoke, this was especially important as the cameras at the back of the residence provided visuals of anyone who was coming in and out of the alley.
After sitting in the alley for a while, we decided to walk around to the front and knock on the door again to request to speak with the "homeowner," who was the subject. At this point, we were able to recognize him from the many pictures online as he walked outside from his basement to the front staircase of his property. One of us then approached the subject, introduced himself, and shook his hand before stating that we had court documents for him. When the subject realized we were process servers, he turned around, ignored the fact that we were handing him legal documents, and forced us to state that he had been served. We left the documents by his feet on the stairs going to the first floor of his property.
He was properly served and the service held up in court.
What Does a Process Server Wear When Serving Legal Documents?
When not in a costume or a disguise, what should a process server wear?
We recommend that process servers dress professionally for business services between 9-5pm and to dress down for residential services. If our pretext was to courier flowers to the subject, we dress down because you do not typically see a courier wearing a clean, pressed suit or dress business casual. If you wear a suit when approaching a residential address, the individual being served may think you are there selling something, or worse, be alerted that you are a process server and will not believe you are couriering flowers and ask your real purpose. A general rule of thumb is to dress to match the environment you will meet the person to be served.
PLEASE NOTE: Pretending to be a police officer or government employee is illegal. Remember to check your state's laws regarding props and pretext. You can never impersonate a law enforcement officer, USPS, FEDEX, UPS, or government employee. Even wearing a disguise can go against the rules. In most states, props are legal and can help you make contact. You could try holding a pizza box or ordering one to hand off. The process serving industry go-to is flowers, which still proves to be successful to this very day.
Serving Process with a Professional Company
We make sure our clients' court documents reach the right hands while respecting everyone's privacy and integrity along the way. Here at Same Day Process, we are known for "serving the impossible." Getting creative is important in this line of work and we always follow the rules at Same Day Process.
Call Us: (844) 737-8331
Send Us a Job